It is not uncommon for companies to face a multitude of conflicts related to human resources, payroll, benefits administration, and regulatory compliance. For many businesses, handling these responsibilities in-house can be time-consuming, and costly. This is where a Professional Employer Organization (PEO) steps in as a game-changer.
What does a PEO do? We will discuss the world of PEOs, exploring what they are, when they make sense, and the numerous benefits they offer to businesses of all sizes.
What is a PEO?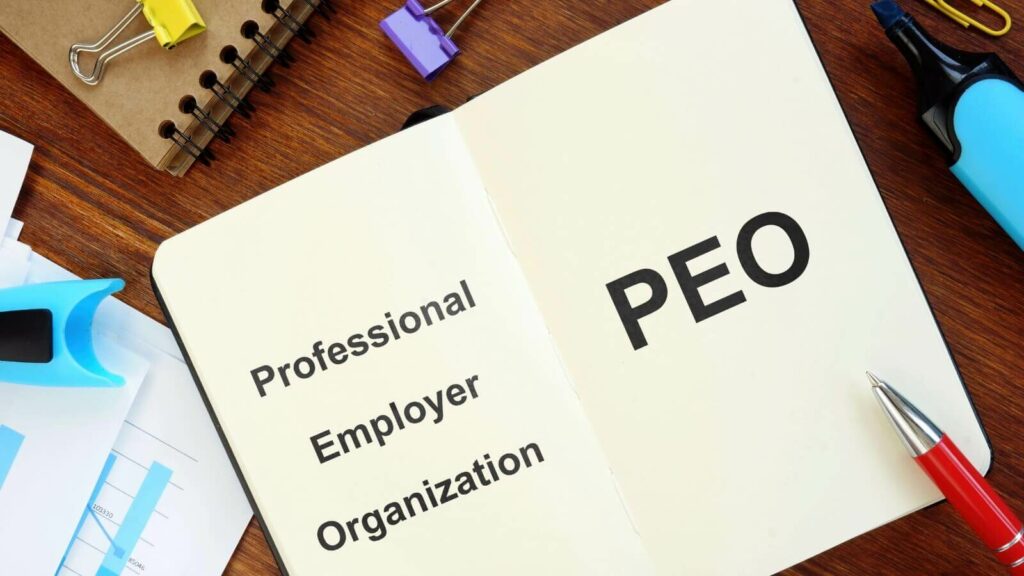 A PEO, or Professional Employer Organization, is a partnership between a business and an external service provider (in this case the staffing agency) that handles various human resource functions. In this partnership, the PEO becomes the employer of record for a company's employees, thereby managing payroll, taxes, benefits, and other HR-related tasks. Some specific tasks a PEO may perform include:
Payroll administration
Employee benefits, including medical, dental, and vision insurance administration
Retirement savings plans, such as a 401(k) program
Human resources management
Compliance and legal support
Risk management and insurance
Time tracking
Employee training and development
Employee records management
Essentially, the PEO shares employer responsibilities, allowing the client company to focus on its core business objectives while ensuring compliance and efficient HR operations.
When Does it Make Sense to Engage a PEO?
PEOs benefit businesses of all sizes, but they can be particularly advantageous for small and medium-sized enterprises (SMEs) that may not have the resources to manage a full-fledged HR department.
Start-ups and growing companies also benefit from PEO services, as they can offload HR tasks to other qualified professionals, giving them more time to nurture their businesses. Additionally, businesses in industries with complex labor laws and regulations can greatly benefit from a PEO's expertise.
Advantages of Utilizing a PEO
Enhanced HR Efficiency
Partnering with a PEO means a business can use a team of HR professionals who handle various administrative tasks, such as payroll processing, employee onboarding, and benefits administration. This increases HR efficiency, reduces administrative burdens, and allows the company to allocate resources more strategically.
Cost Savings
Utilizing a PEO can result in significant cost savings for businesses. PEOs use their buying power to get good prices for employee benefits, workers' compensation insurance, and other HR services. This lets businesses give their employees better benefits for less money.
Expert HR Guidance and Compliance
It's crucial for any business to follow the rules about how they treat their workers. PEOs have in-depth knowledge of employment laws, reducing the risk of compliance violations. They offer help with HR matters, minimizing the risk of legal disputes and fines.
Access to Comprehensive Benefits
PEOs offer employees various benefits, such as health (medical, dental, vision) insurance, retirement plans, and wellness programs. Competitive benefits can help bring and keep the best employees, which helps the company grow and succeed.
Focus on Core Business
With HR functions managed by a PEO, businesses can focus on their core competencies and strategic initiatives. This allows leadership and employees to focus on creating new ideas and achieving business objectives without being slowed down by HR complexities.
Common Questions about PEOs
Can a PEO Customize its Services to Fit My Business Needs?
Yes, a great PEO will offer flexible service packages tailored to the specific needs and size of each client. This customization ensures that businesses receive the right level of support for their unique requirements.
Is Data Security a Concern When Partnering with a PEO?
Reputable PEOs prioritize data security and employ robust security measures to protect sensitive employee information. Companies should inquire about a PEO's data security protocols before partnering with them.
Staffing Support Specialists as a PEO
PEOs can be independent agencies that specialize solely in specific HR abilities, or they can be an extension of services offered by staffing agencies. Although our main focus at Staffing Support Specialists is to provide staffing solutions, we have an entire division dedicated to PEO solutions.
We provide a list of standard PEO services and optional services as well:
Weekly payroll administration (paperless payroll)
Medical, dental, and vision insurance
401(k) retirement plans
24/7 accessible payroll records
W2 and tax filings
Worker's compensation and unemployment insurance
Temporary employee placement
Dedicated HR support
Leadership and management training
The general cost of these PEO solutions depends on what partnership services are agreed upon. These services can be divided into a cost-basis of co-employment for employees, onboarding (hiring), offboarding, dedicated HR support, leadership and management training, and our various recruiting options.
If you are interested in finding out more information about how Staffing Support Specialists can benefit you as a PEO, contact us today to find the best staffing solutions for your organization.
Staffing Support Specialists has matched great candidates to the right role for over 20 years. Contact us to
apply
or
fill an opening
today!