This is a question that we frequently hear from businesses and job seekers alike. We understand that there are a lot of staffing agencies out there and that there is a misconception that we are all the same. The truth is there is a big difference between a bad staffing agency and a good one, but there is an even wider difference between a good staffing agency and an AMAZING one.
Have trouble spotting the differences? Let us help!
1. They know your industry extremely well and have experience filling roles in it
All staffing agencies either specialize in very specific industries or have teams that are focused on certain types of businesses. For you to find a staffing agency that is a good fit for you, it is important to understand their history, customers, and where they have the most expertise.
2. They have a good reputation and connections in your industry
In the world of business, it is important to understand who other companies are using, and who is the talk of the town amongst your peers. When a business can trust their staffing partner, they can better rely on the staffing company's recommendations on job candidates, which leads to better and faster hiring decisions. On the flip side, choosing the wrong partner can cause problems that impact you today, tomorrow, and for months or even years in the future.
Choosing the right staffing partner starts with knowing your industry and who has a record of success so strong that others cannot recommend them fast enough.
3. They provide transparency throughout the partnership
Effective communication is a key element of a good staffing agency. You can often tell even during the sales process how well the staffing agency is able to communicate with you and your team. Not only is it important for the staffing agency to communicate well with you, but it is also important to know how well they are communicating with potential candidates for your positions.
A strong job seeker can get frustrated quickly with staffing agencies, so poor communication not only means headaches for you but you are also likely to see weaker candidates.
If you are a company looking to hire a staffing agency, don't stop here! Next, we are going to talk about the important elements that candidates should be looking for when learning how to choose a staffing agency. These tips are still important for your business because they directly impact the type of talent a staffing agency might bring to the table when starting a partnership.
How to choose a staffing agency as an employee?
1. Look for one with access to multiple employers and roles
If you are a candidate looking for a staffing agency to help you find a position, it is important that you ask about the types of companies that they staff for. Many staffing agencies have just a few large clients making up the majority of their open positions. If this is the case, it limits your options and knowledge of what is out there in the marketplace and the potential of finding a good fit for you.
Look for staffing agencies that have a variety of clients in order to increase the odds you can find something that suits your lifestyle and goals.
2. Personalized services for you
One of the reasons that staffing agencies get a bad reputation among job seekers is that many of them feel like just another resume thrown into a pile without any form of custom experience or communication with the team.
Good staffing agencies understand how important and stressful the job-seeking process can be and will take the extra time to communicate well, answer your messaging in a timely manner, and make sure you are prepared to find a job that fits your lifestyle. Keep an eye out for some of the little details that show just how important candidates are to the staffing agency.
One example for us is that we send a custom cake with the candidate's name for everyone who lands a job. That is the level of support we want to show to our candidates and you should not expect anything less.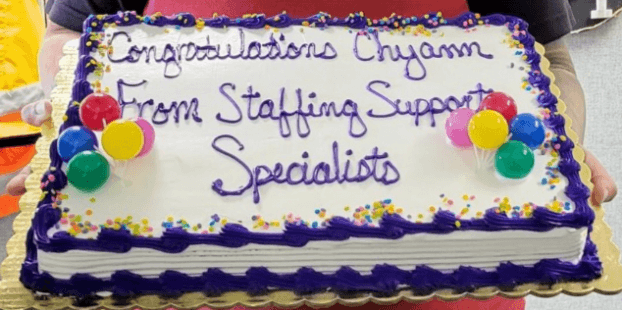 3. They build a relationship with you
On a similar thread, it is important to see that a staffing agency is trying to build a relationship with you. When looking for a job, you're often not thinking about just yourself, but also how the position will impact your significant other, your children, your friends, and many other things that must be taken into consideration. Without building a relationship first, the chances of a failed placement increase drastically.
Building a relationship with your staffing agency means that they take into account more than just your experience and requested pay, they see the whole picture of you and your circumstances to find a fit for the long term.
As you can see, the biggest thing that makes a staffing agency great is their ability to communicate well and see the big picture. Truly caring about both the candidates that come to us for help, and the companies looking to grow their teams can only be a win-win. Make sure you do your research and look for the items above and we promise you will be able to sort through the clutter of staffing agencies and find your best fit in no time!
Staffing Support Specialists has matched great candidates to the right role for over 20 years. Contact us to
apply
or
fill an opening
today!