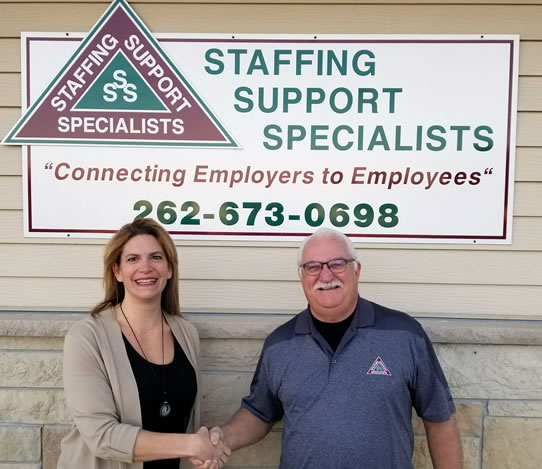 On November 3, 1997, Pat Frank opened the doors of Staffing Support Specialists in Hartford, Wisconsin, with a mission to serve the local community and ease the pain of searching for and filling jobs.
Since opening our first office, we have served over 200 industrial and manufacturing companies in the Southeastern Wisconsin area including Columbia, Dodge, Fond du Lac, Milwaukee, Ozaukee, Washington, and Waukesha counties and have placed well over 5,000 employees in permanent positions.
On February 23, 2018, Ane Ohm bought the business from Pat Frank and she's excited to build on Pat's mission.
Our Guiding Principles:
Clients, Candidates, and Employees are all equally important.
We make personal connections. Technology helps us reduce administrative tasks so we spend our time getting to know you.

We strive for efficiency and speed in all we do. We don't want to waste your time or ours.

No news is bad news. You will hear back from us.
Honesty and transparency to all. Okay, sometimes it really is bad news. If it is, we'll give it to you straight.
Friendly. Compassionate. Flexible. We care about your specific needs and we will work for you.
Staffing Support Specialists will work with you to solve your immediate and future employment needs. Please call us at (262) 673-0698. We will be happy to develop a staffing plan that suits your needs.
We are proud to be a member of the following organizations:
Beaver Dam Chamber of Commerce